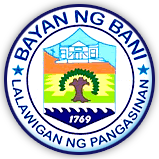 Getting Here
Seated in the vast rice fields during rainy days, the watermelon plantation in summer, the rolling hills, and undulating mountains, the Municipality of Bani is dubbed as the "Golden West" - a metamorphosis from the Wild, Wild West, an epithet given to the Municipality in the 60s and early 70s. It is the westernmost town of the 45 Municipalities of Pangasinan, a province of about 2.2 million peace-loving and God-fearing people of the Republic of the Philippines.
Located 264.5 km from Manila, 146.2km from Baguio City, 105.9km from Urdaneta City, and 71 km from Dagupan City, Bani is accessible to all modes of transportation. Travelers may reach the town through public utility buses, jeepneys, tricycles and private vehicles.  
Like other municipalities, Bani is headed by a Municipal Mayor, who is elected by the people. The Mayor is the local chief executive of the town. Other officials are the Municipal Vice-Mayor, who heads the legislative branch of the municipal government and 10 members of the Sangguniang Bayan. The municipality is composed of 27 barangays, each headed by an elected Punong Barangay. The barangay has its own legislative body called a Barangay Council, which is usually composed of eight elected barangay council members.
The town of Bani is the westernmost town in the island of Luzon, and all the islands of the Philippines except the Province of Palawan. It lies between two (2) big bodies of water: Tambac Bay in the northeast and the West Philippine Sea in the west. It is bounded by five towns: Bolinao in the north, Anda in the northeast, Alaminos in the east, Mabini in the southeast and Agno in the south. The distances from Bani's town site to these border towns' town proper are: Bolinao - 26 kms; Anda - 20 kms; Alaminos - 14 kms; Mabini - 16 kms; and Agno -14 kms.

Land area: 192,436,075.0000 square meters
19,243.6075 hectares
Number of Barangays: 27